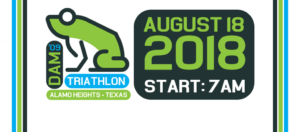 Join us for the oldest Triathlon in the city!  This is our 18th year, and it's been fun every time!
Dam 09 Triathlon
Saturday, August 18th
  Alamo Heights Swimming Pool
  250 Viesca, San Antonio Tx 78209
400 meter swim, 9 mile bike, 4K run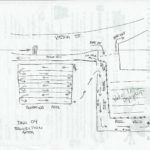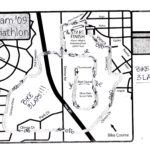 Includes breakfast with iced coffee, mimosas, and beer.
What does the name mean? Dam '09: Start/Finish is in Alamo Heights (city zip – '09ers) and the bike course is along the Dam into Olmos Park.. so, DAM '09 is the name.
This triathlon is seeded by your estimated swim time:
How long does it take you to swim 400 meters in a pool?
In order to place you correctly in the swim seed, you must know your approximate swim time for 400M. 10:00 minutes…5:00 minutes? Whatever it is, please be as close as you can, for your enjoyment during the swim and the enjoyment of your fellow triathletes. You will be asked your swim time upon registration online.  Remember, it's a continuous 400M…not 100M x 4!!!
References:  World Record:  3:40
                           Last year's fastest swim time:  5:21
                           Last year's slowest swim time: 18:07
This is a USA Triathlon Sanctioned event.  Please bring your USAT card or purchase a one-day pass if you are not a USATriathlon member; your packet will not be released unless you have a USAT card or purchase a one-day pass. Each participant who registers must pick up their own packet –
 we cannot release your packet to a friend or family member;

 only exception is a parent or legal guardian. PLEASE plan accordingly.
Refund Policy:
No refunds will be given.
If you are registered and cannot participate, your registration can be transferred for $10 and the new registrant must buy their own $15 Day Pass or be a current member of USAT and provide us with their USAT number.  Transfer option ends at midnight on Aug. 11th
PLEASE NOTE!  WE'VE ADDED A BIKE/RUN THIS YEAR!
Individuals:  Sprint Triathlon , Aqua/Bike, Bike/Run
       Early Bird Registration:  $85 until midnight 2/28/18
$95  until midnight 6/1/18
       $105 until 7:00 pm 8/16/18
$115 at PPU on 8/17/18
2 PERSON RELAY:
       Early Bird Registration: $135 until midnight 2/28/18
$160 until midnight 6/1/18
$185 until 7:00 pm 8/16/18
$195 at PPU on 8/17/18
3 PERSON RELAY: 
       Early Bird Registration:  $175  until midnight 2/28/18
$200 until midnight 6/1/18
$225 until 7:00 pm 8/16/18
$235 at PPU on 8/17/18
Awards:  Overall Male/Female:
1st thru 3rd Age Group Awards: Male/Female
15 and under, 16-19, 20-24, 25-29, 30-34, 35-39, 40-44, ……..65-70, 70+
1st Relay – 2 person
1st Relay – 3 person
1st-2nd Aqua/Bike
1st-2nd Bike/Run
Registration will close when we meet a 300 maximum!
Packet Pick Up:
August 17th, 11:00 am- 6:30 pm
San Antonio Running Company
7959 Broadway St Suite #502
San Antonio, TX 78209
Packets must be picked up by registrant.  No exceptions other than under 18 years old.
There is an additional $10 fee for race day packet pick up.
Transition area opens at 5:30 am on the 18th.
Tech shirts will be ordered on 8/10/18.  Guaranteed sizes if registered before 8/10/18.