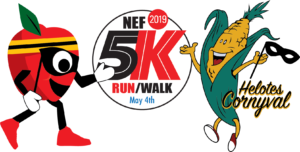 Saturday, May 4th
Race Start 8:00 am
The NEF 5K Run/Walk & Family Wellness Fair is one of the largest local non-profit 5K's in San Antonio. In 2018, almost 3,000 participated. At the 5K, hundreds of NISD employees, students, and families, and event sponsors and vendors come together to support NEF's mission of generating more resources for Northside educators and students. NEF is proud to partner with the City of Helotes and the Helotes Festival Association.
After the race, stay and play at the Cornyval Parade and Festival. The Festival tickets will only be $7 for 5K participants, and will open early exclusively for 5K participants!
      *Carpooling recommended.
A portion of the route is unpaved and uneven. Use strollers and wagons with caution.
RACE DAY SCHEDULE
07:00 AM – Registration and Family Wellness Fair
08:00 AM – 5K Run/Walk starts
09:30 AM – Kids Fun Run starts
10:00 AM – Awards Ceremony
ENTRY FEES
To get your name on your bib, register by April 1. Early registration deadline is April 12. All prices will double after April 12. No refunds on any entry fees or sales.
$25 – Individual
Increases to $50 after April 12 and on race day.
$60 – Family & Friends (4 members)
Increases to $120 after April 12 and on race day.
$25 – Sleepwalker
Sleep in and skip the race but still support NEF!
This registration option does NOT include a race bib; it's simply a donation to NEF.
Sleepwalker registrants are still counted towards NISD campus/site goal.
Increases to $50 after April 12 and on race day.
$7 – Helotes Cornyval Festival Ticket
Early entry exclusive to 5K participants only
Festival admission is free for children 12 and under.
Kids Fun Run is FREE for children 10 and under* (registration onsite only)
*Children 10 and under who want to run competitively must pay for registration and chip timing.
(Chip timing is an additional $5/per registrant. T-shirts sold separately – Cotton $5, Technical $10. Costs double after April 12 and on race day.)
AWARD CATEGORIES
5K Run/Walk
1st Place Overall Male and 1st Place Overall Female, plus top three males and females, in the following age groups: 10 and under, 11-15, 16-19, 20-24, 25-29, 30-34, 35-39, 40-49, 50-65, and 65 Plus.
FREE Kids Run* (10 and under) (Registration onsite only) –
Medals to the 1st place boy and 1st place girl. Participation ribbon/medals to all.
*A parent or guardian must be present to sign the waiver. Children 10 and under who want to run competitively must pay for registraion and chip timing.
NISD Campuses/Departments
The campus and site with the largest team wins $500. The NEF Spirit Stick will be awarded to the school/site with the most spirit.
PACKET PICKUP
There are two options for packet pickup: Campus Packet Pickup or Northside Learning Center (NLC) Packet Pickup. Please read carefully to determine which option is best for you.
Campus Packet Pickup:  If you choose this option, your packet will be picked up by an NISD Team Captain and distributed at the campus/site you selected to run for upon registration. Click here to view contact information for NISD Team Captains. Packets will be ready for pick up at your designated campus/site the week of April 22.
Northside Learning Center (NLC) Packet Pickup: If you choose this option, packet pickup will be available from 8 a.m. – 6 p.m. on both April 23 and 24 at the Northside Learning Center in Building A located at 6632 Bandera Rd. SATX 78238. NISD Team Captains will receive a different schedule.
VOLUNTEERS
This event would not be possible without the help of our volunteers.  Volunteers are needed before the event and during race day. If you would like to help support Northside please contact Katie Martinez at (210) 397-8599 or katie.martinez@nisd.net. This is a great opportunity for high school students, college students, retired NISD employees, or anyone interested in volunteering their time.